Locally owned and serving Penticton since 2001.
We specialize in fulfillment services to the architectural, engineering and construction industry.
How can we help you?
We offer business and administrative services to independent contractors and small business. We are available Monday thru Friday 8:00AM to 4:00PM. Or call (250) 493-6643.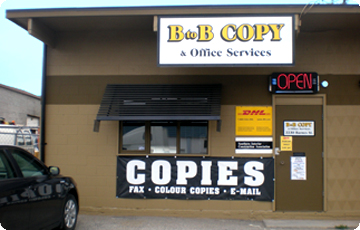 About Us
BtoB Copy & Office Services is Penticton's complete source for all small and large format colour printing and document needs. We are an owner-operated company with over 15 years experience servicing the A/E/C, municipal, industrial and colour graphics communities. Our services include: Blue printing, Reprographics, Copying, Desktop publishing, Document conversion, Small-format digital printing, "Print-on-demand" digital publishing, Small-format and Large-format Scanning, Collating, Finishing and binding. We are also Agent for DHL, Loomis and Canpar courier and shipping services.
We manage the details
Professionals in the AEC (architect, engineer and construction) community through to business owners and/or executives, depend upon the trusted value that their work will be done correctly to the highest standard. We are proud to serve these professionals and do so by "managing the details". We specialize in:
Sharp printing quality
Fast output to meet your deadlines
Multiple binding options
Exceptional quality control
Delivery on schedule